A protest against protests: French police denounce violence during demonstrations
Comments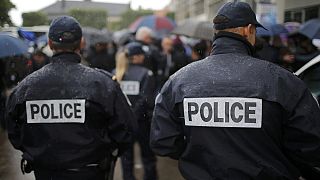 Police officers across 60 French cities have taken to the streets to vent their frustration at mounting violence during protests about contentious labour reforms.
In Paris, several hundred gathered in Place de la République the symbolic heart of most rallies in the capital.
Manifestation des policiers le 18 mai https://t.co/XWCjIEnwhQpic.twitter.com/Up9dUyISDQ

— Le Journal Patriote (@JournalPatriote) May 9, 2016
"My colleagues have had enough," said one police officer. "For one thing, they are exhausted by the continual demonstrations. And for another they get really worked up. So it got to the point where we said enough is enough."
Another added:
"All the police officers, commissioners, peacekeepers, have had enough of being stigmatised, daily, at every protest. We're the object of violence and jibes. We're simply keepers of the peace, in the truest meaning of the term."
Une voiture de police incendiée en marge de la manifestation à Paris https://t.co/pEueHm1W4qpic.twitter.com/PUxavvGYVK

— Le Monde (@lemondefr) May 18, 2016
In some parts, the police were met with counter protesters who claimed the situation wasn't as it seemed.
"The police occupying Place de la République for an 'anti-hate-against-the-police' rally is a real provocation when, since the first demonstration on March 9, we noticed that they were the ones generating violence. We've been sprayed with gas, hit with batons, arrested," one woman claimed.
EN DIRECT. Manifestation de policiers : une voiture de police incendiée par des casseurs https://t.co/Nxnq1g3d7Zpic.twitter.com/IQ7kKFIKq0

— L'Obs (@lobs) May 18, 2016
Yet, according to the results of an Odoxa survey, published in Wednesday's edition of Le Parisien (in French), 82 percent of French people have a good opinion of the police. The same survey suggets more than nine out of ten people (91 percent) understand their frustration, citing the state of emergency, threat of attacks, 'Nuit debout' movement and rallies against the labour reforms.