Tough sentences demanded for suspected people smugglers
Comments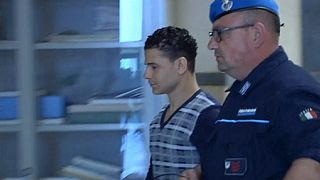 Prosecutors in Sicily have demanded an 18-year jail sentence for a man accused of captaining an overloaded migrant boat that sank in April.
Up to 800 people were killed in the disaster and hundreds of bodies are still trapped in the the hull of the sunken fishing boat.
Mohammed Ali Malek's lawyer said his client was not the boat's captain and paid for passage like everybody else.
"My client is accused of international people smuggling, multiple manslaughter and shipwreck," said defence lawyer Massimo Ferrante. The 18-year penalty is what we expected. But now it is our turn."
The defence will present their arguments in hearings set for July and October.
A report from international agencies Interpol and Europol says people smugglers made about five billion euros from migration into southern Europe last year.
About a million migrants entered the EU in 2015. Most paid between 3,000 to 6,000 euros to smuggling networks.
Some 800,000 people are in Libya waiting to travel to the EU.