Security tight in Hong Kong for rare visit of Chinese official
Comments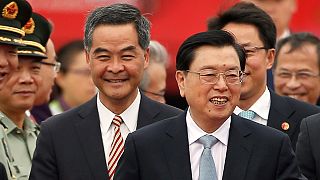 Tensions are high and security is tight in Hong Kong, for the visit of a top ranking Chinese official.
Zhang Dejiang's arrival comes amid increasingly strident calls for greater autonomy.
He is officially in this financial hub to attend an economic summit.
"(I will listen to) suggestions and demands of all sectors of society on executing the principle of one country, two systems, self governance, on allowing Hong Kong a high degree of autonomy, how to implement the basic law, and how the country and Hong Kong should develop," Zhang Dejiang, Chairman of the Standing Committee of the National People's Congress, told the media after touching down.
Thousands of police officers have been mobilised for Zhang's visit – the first senior Chinese figure to come to Hong Kong since the 2014 Occupy democracy protests.
Following those demonstrations, some activists have been calling for an outright breakaway from China.
But Beijing's foreign ministry's said that pushing for independence would harm Hong Kong's security, prosperity and stability.