Russian opposition leader Navalny attacked by Cossacks
Comments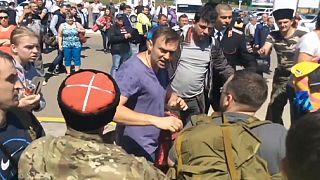 Russian opposition leader Alexei Navalny has been injured after being attacked by a group of Cossacks.
That is according to his spokeswoman, who says it happened outside an airport in southern Russia.
Six associates are also said to have been hurt.
Navalny and about 30 members of his anti-corruption foundation had been holding a team-building weekend in the countryside.
They were apparently attacked when they arrived at Anapa airport on Tuesday morning.
Cossacks, a paramilitary group dating back to tsarist times, have gone through a revival in recent years.
In southern Russia, they have been granted the right to patrol the streets.
Several men attacked members of the Pussy Riot punk collective with whips during an impromptu performance during the 2014 Winter Olympic Games in the Black Sea resort of Sochi.