Medina claims victory in Dominican Republic presidential vote
Comments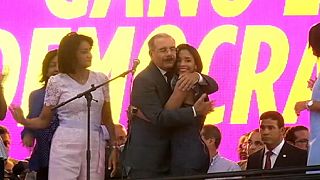 Danilo Medina has claimed victory in the Dominican Republic's presidential election, after results from more than two thirds (67 percent) of polling stations showed he had won 62 percent of the vote.
The incumbent's closest rival, Luis Abinader, lagged well behind on 35 percent.
"It is my commitment that over the next four years I will invest all my energy in building on the changes that the Dominican Republic is already going through," Medina told the crowds.
Technical issues at some polling stations meant the ballot (May 15) was extended by an hour.
Definitive results had yet to be announced more than 24 hours after the polls closed.
Electoral authorities claim this gave rise to inter-candidate tension, which in turn resulted in six deaths and discord in the provinces.