Brazil will be ready for Olympic Games despite Zika, says minister
Comments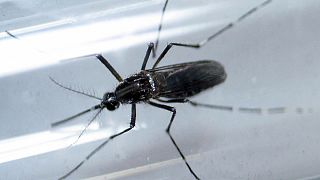 The World Health Organization (WHO) chief says the agency is increasingly concerned about the mosquito-borne virus Zika .
We are of the conviction that we are ready

Brazilian Sports Minister
Margaret Chan noted that although it's been around for decades, it's only recently that Zika has been proven to cause severe birth defects.
"The more we learn about Zika, the more worried we get about it. I must say that once again. The risk profile of Zika has changed over the years," said Chan.
"As we know, microcephaly takes a long time, the babies can grow to adulthood, so how can governments provide a regular monitoring and evaluation as the child develops, because now I talked to the paediatrics and neurologists there, and they begin to observe some hearing problem, some visual problem, and then when they begin to get older, they may have some developmental problems," Chan added. "So this is going to be a long-term sort of advise to the government to re-purpose the health system."
ICYMI: We took your #Zika questions to infection expert Dr. Brian Koll from MountSinaiNYC</a>. <a href="https://t.co/n745RMcM1z">https://t.co/n745RMcM1z</a> <a href="https://t.co/N8yuee9PGg">pic.twitter.com/N8yuee9PGg</a></p>&mdash; Reuters Top News (Reuters) May 17, 2016
Rio 'will be ready' for Olympic Games, says minister
The country's sports minister Leonardo Piccian is confident it will be ready.
"Combat and prevention measures are being adopted as public security measures," said Picciani. "The most important thing is that Brazil at this time has a positive message for the world. We are of the conviction that we are ready and we need to re-affirm this to the international community, that we're open to receive international entities and representatives from other countries to show off our preparation."
The WHO is recommending athletes and travellers to Rio take measures to prevent being bitten by mosquitoes, however the agency chief doesn't see why the games should be moved.
Zika has now spread to 60 countries.
The virus is normally spread by mosquito bite but the United States has now reported a rare case of a Zika infection transmitted through sex.
After weeks of study and debate, US health officials have confirmed that the mosquito-borne Zika virus causes birth defects including microcephaly, the syndrome where children are born with unusually small heads.