Joy and pride in Kyiv after Ukraine's Eurovision victory
Comments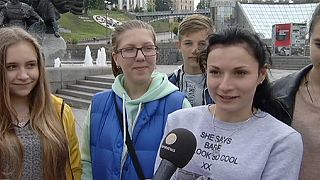 There was joy and pride on the streets of Kyiv on Sunday (May 15) after Ukraine's candidate Jamala won the Eurovision Song Contest.
"Jamala is the best!" cheered a group of teenagers visiting the capital.
"Jamala is an incredible, amazing person. She's sincere and as a person she's very strong, and she always gets what she wants. So we're very happy," Oksana, a bubbly brunette, told Euronews.
The victory also means Ukraine will get to host the competition next year, for the first time since 2005, after Ukrainian singer Ruslana brought victory home in 2004.
"Ukraine is really opening up to the world. People will learn more about us, they will come here and see a different Ukraine," said Petro, a Kyiv resident.
Jubilant #Ukraine celebrates #Jamala's 'unbelievable' #Eurovision victory: AFP</a><a href="https://t.co/BvGRt1heP8">https://t.co/BvGRt1heP8</a> <a href="https://t.co/u89jKC903P">pic.twitter.com/u89jKC903P</a></p>&mdash; Dmitry Zaks (dmitryzaksAFP) May 15, 2016
Ukraine wins #Eurovision#SongContest! #GoUkraine! Great job jamala</a> ! You made us all proud. <a href="https://twitter.com/hashtag/proudtobeukrainian?src=hash">#proudtobeukrainian</a> <a href="https://t.co/5bxk4WdE4Z">pic.twitter.com/5bxk4WdE4Z</a></p>&mdash; Natasha Blasick (natashablasick) May 15, 2016
Jamala's success seemed to cheer up a country stricken by war in its east for the past two years.
"I'm happy our girl won," said Ludmila, a citizen from Mariupol, near Donetsk. "She is very talented and it's a victory for all Ukrainians."
Dmytro Shchavliov, a police lieutenant at work, chimed in: "Well done! I wish her inspiration and success.This is a step forward for us, and I hope everything will work out for Ukraine like it worked out for Jamala."
Even Ukraine's president Petro Poroshenko congratulated Jamala on Twitter, thanking her for an "incredible" performance.
Beautiful and dramatic JAMALA</a> sets the stage alight tonight <a href="https://twitter.com/hashtag/UKR?src=hash">#UKR</a> <a href="https://twitter.com/hashtag/Eurovision?src=hash">#Eurovision</a> <a href="https://t.co/4oOLuWK2EP">https://t.co/4oOLuWK2EP</a></p>&mdash; Eurovision (Eurovision) May 14, 2016