Crimean Tatars celebrate Ukraine's Eurovision victory
Comments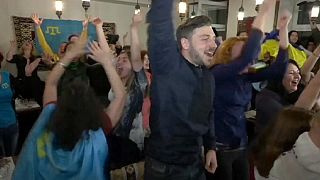 The outcome of the Eurovision Song Contest brought delight in Kyiv among Ukrainians – including Crimean Tatars.
Euronews correspondent in the Ukrainian capital, Dmytro Polonsky, said:
"Ukraine is celebrating, 12 years (since the country's last victory) Eurovision will be coming back to Kyiv. A big party was organised at Musafir, a Crimean Tatar restaurant opened by Crimean Tatars who moved to Kyiv from Crimea a year and a half ago. This victory is symbolic for Ukraine, as one of the favourites was Russia whose singer Sergei Lazarev finished in the top three. Jamala flies back to Kyiv this afternoon (on Sunday), and she'll be holding a huge concert in Kyiv that had been planned before her trip to Stockholm."
"We would very much like the next Eurovision Song Contest to be held in Crimea. All Crimean Tatars expect it very much, and it would be very good to hold it in Ukrainian Crimea," said Anife Huseitova, a local resident and one of those celebrating in the restaurant.
In Stockholm, Ukrainians were also celebrating – along with plenty of others, including Russians.
Russia took the highest number of TV viewers' votes but needed more from the juries.
But for many lapping up the festive atmosphere in the Swedish capital and around the world, the contest was about more than just 'the winner takes all'.
Congratulations Jamala</a>! Congratulation <a href="https://twitter.com/hashtag/Ukraine?src=hash">#Ukraine</a> and <a href="https://twitter.com/hashtag/Crimea?src=hash">#Crimea</a>! <a href="https://t.co/BHohoh0SGZ">pic.twitter.com/BHohoh0SGZ</a></p>&mdash; Oksana Kyzyma (OksanaKyzyma) 14 May 2016
1944 song eurovision</a> winner <a href="https://twitter.com/jamala">jamala filmed at hromadske</a> <a href="https://twitter.com/hashtag/Crimea?src=hash">#Crimea</a> Tatars Ukraine <a href="https://twitter.com/hashtag/jamala?src=hash">#jamala</a><a href="https://t.co/KOdemcRtnb">https://t.co/KOdemcRtnb</a> <a href="https://t.co/ncac7mQ1ll">pic.twitter.com/ncac7mQ1ll</a></p>&mdash; Nataliya Gumenyuk (ngumenyuk) 14 May 2016