Female ex-ministers speak out against sexual harassment in French politics
Comments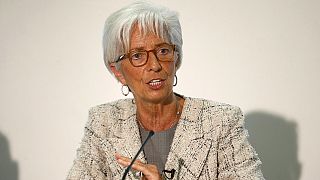 Seventeen women who have served as ministers in France say they will no longer keep quiet about sexual harassment in politics.
The signatories span the left, right and centre and include Christine Lagarde, France's former finance minister and the current head of the International Monetary Fund.
The open letter, published in the weekly Journal du Dimanche on Sunday (May 15), comes days after the deputy speaker of France's lower house of parliament resigned over sexual harassment claims, which he denies.
The case around Denis Baupin has prompted soul-searching in France, with calls to break a "code of silence" around sexual harassment.
"It's an exceptional opportunity for women in politics, but also in business and civil society, wherever women can be subjected to unwelcome advances… to say stop, enough, we can't take it anymore," France's minister for women's rights Laurence Rossignol said on public television.
The French Parliament is currently working on new legislation to make it easier for women to file legal complaints for up to six years in cases of sexual harassment, compared to three years currently.
Sexual harassment and French politicians: how women began to fight back https://t.co/hji6BnEWktpic.twitter.com/eAXIeyDQZS

— The Telegraph (@Telegraph) May 14, 2016