Spielberg's fantasy adventure 'The BFG' premieres at Cannes
Comments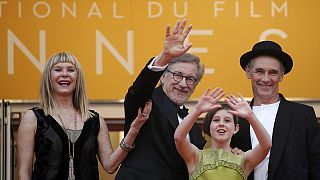 Steven Spielberg's latest movie premiered at Cannes on Saturday. "The BFG" – a fantasy film about a Big Friendly Giant – is a return to family film territory.
Based on a Roald Dahl novel, Spielberg said making it made him feel young again.
The movie has been compared to E.T. 34 years later and has received some mixed reviews.
The director describes "The BFG" as a love story that children have for their grandparents.
It's #StevenSpielberg of course for #TheBFG on the #RedCarpetFestival_Cannes</a>. See the whole pictures <a href="https://twitter.com/euronews">euronewspic.twitter.com/1RXINTbYsJ

— fred ponsard (@fredponsard) May 14, 2016
"The Handmaiden" ("Mademoiselle") is Park Chan-Wook's third film in the running for the Palme d'Or.
An adaptation of the Sarah Waters novel "Fingersmith", it's set not in Victorian Britain but in Korea in the 1930s during the Japanese occupation.
Euronews correspondent Fred Ponsard reported from the red carpet:
"The Cannes film festival offers an incredible variety of films, from the biggest Hollywood blockbusters to conceptual arthouse movies. Among the films competing for the Palme d'Or that we've already been able to watch there was a British social drama, a German comedy, a French comedy and a historical erotic thriller from South Korea, an exceptional mix of films of different genres and origin."
(Hollywood Reporter) 'The #Handmaiden' ('#Agassi'): Cannes Review : Park Chan-wook's.. https://t.co/1Fk2fNCelYpic.twitter.com/ANLxoPWrrX

— InUSANews (@inusanewscom) May 14, 2016