Obama and Nordic leaders present united front on 'Russian aggression'
Comments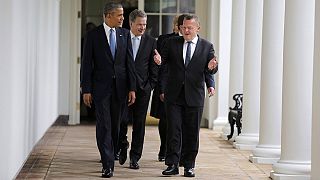 President Obama has hosted the leaders of five Nordic nations – Sweden, Denmark, Finland, Norway and Iceland – praising the countries for their influence on civil rights, humanitarian issues and fighting climate change.
In a joint statement issued after the summit, they agreed on the need to maintain sanctions against Russia over its military involvement in Ukraine and attitude towards its neighbours.
"We're united in our concern about Russia's growing aggressive military presence and posture in the Baltic Nordic region. We will be maintaining ongoing dialogue and seek cooperation with Russia, but we also want to make sure that we are prepared and strong," Obama told a news conference.
Moscow's annexation of Crimea two years ago alarmed Russia's Nordic and Baltic neighbours.
Denmark and Norway have said they will contribute to "the enhanced allied forward presence" with NATO to deter further Russian aggression.
Obama later toasted the Nordic countries' leaders at a state dinner. The president joked he had often said "why don't we just put all these small countries in charge for a while? And they could clean things up".
"To you & your delegations, welcome…Tervetuloa. Velkommen. Välkommen. And Velkomin."-POTUS</a> <a href="https://twitter.com/hashtag/NordicVisit?src=hash">#NordicVisit</a> <a href="https://t.co/CM2oLwNf1C">https://t.co/CM2oLwNf1C</a></p>&mdash; WH National Security (NSC44) 13 May 2016