Russia condemns US missile-defence systems in Europe
Comments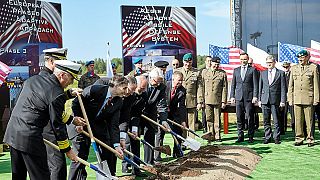 Poland has broken ground at a site designed to hold interceptors for a US missile-defence system in the north of the country, drawing criticism from Russia.
NATO says it forms part of a wider system to protect Europe and the US from threats from the Middle East.
"Europe, and by extension NATO, is facing a range of new and complex security challenges," said Robert Work, US Deputy Secretary of Defense. "Addressing these challenges will require a more capable NATO alliance, one that continues to evolve and adapt, to threats both old and new."
However, Russian President Vladimir Putin claims the shields being activated and due to be erected in Europe are a new step to an arms race.
"These are not defence systems. It is part of the US nuclear strategic potential brought onto a periphery. And the periphery ,in this case, is Eastern Europe. Until now, the people making such decisions have lived in calm, comfort and security. Now as these elements of ballistic missile defence are deployed, we are forced to think how to neutralise emerging threats to the Russian Federation," he warned.
On Thursday (May 12), the US activated a multi-million dollar missile shield at a Soviet-era base in Romania. It claims the barrier is a defence mechanism against missiles from Iran and so-called rogue states. However Putin told top military officials its real aim was to weaken Russia's nuclear stockpile.