Jamala's 'political' song wins Eurovision for Ukraine in Stockholm
Comments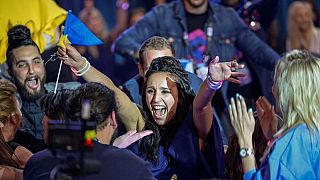 Music, kitsch and politics took centre stage at the 61st edition of the Eurovision Song Contest in Stockholm on Saturday night.
There was suspense right up to the final vote in the Swedish capital before the winner was confirmed: Ukraine taking top spot on 534 points – with a distinctly political song.
The country's candidate, 32-year-old jazz singer Jamala, had said her entry, "1944", was not only about the deportation of the Crimean Tatar population during World War II, but also about the events of the past two years in the peninsula.
Before the contest she called on Europeans to support her to show they were "not indifferent to suffering" in Crimea, which was annexed by Russia in 2014.
Collecting the trophy, Jamala called for "peace and love".
And the winner is…… UKRAINE! #Eurovisionhttps://t.co/dKDgnBAh6v

— Eurovision (@Eurovision) May 14, 2016
Australia – again competing in Europe's premier song competition – had led the jury voting before finally coming second with 511 points for Dami Im's "The Sound of Silence".
Russia – a pre-contest favourite, was third with "You Are The Only One" on 491 points. The computer graphics and decidedly unpolitical lyrics – "Thunder and Lightning, it's getting exciting" – weren't enough to propel Sergei Lazarev's song to the summit.
The final was broadcast to an estimated 200 million viewers in Europe and beyond – including, for the first time, in the United States.
Russia, Australia, Ukraine, France and host nation Sweden had been the bookmakers' favourites among the 26 countries competing for the title.
The winning entry carries the obligation to host the competition next year.
Congratulations to Jamala from Ukraine- winner of the 2016 #Eurovision Song Contest! pic.twitter.com/SUEfwQhLVu

— Eurovision (@Eurovision) May 14, 2016
Euronews followed the event throughout the evening as the story unfolded: