Palestinians condemn Eurovision Song Contest for flag ban
Comments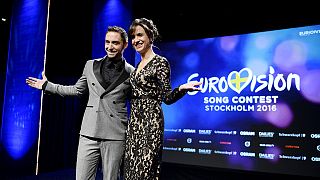 Palestinian leaders have condemned the Eurovision Song Contest for its decision to prevent their flag from being flown during the annual event later this month.
The European Broadcast Union, which organises the contest, published a list of banned flags last week.
That included the Palestinian flag, as well as those of Northern Cyprus, Kosovo and the flag of ISIL.
Senior Palestinian official Saeb Erekat urgently demanded the head of the EBU reverse the decision.
"We call upon Jean-Paul Philippot to revoke his decision immediately and to apologise to the 11 million Palestinians of this grave, unacceptable, despicable mistake."
In a statement, Eurovision's organisers apologised for any offence caused, insisting the examples given on the banned list were not aimed at specific territories, however it did not say whether the current policy will be changed.
The Palestinians do not compete in the annual singing contest, which will be held this year in Stockholm from May 14.
Some of the banned flags (from top left): Basque, Crimea, People's Republic of Donetsk, Kosovo, Nagorno-Karabah, Northern Cyprus, Palestine, Scotland, Transnistria.