Trump turns on the charm as he tries to woo senior Republicans
Comments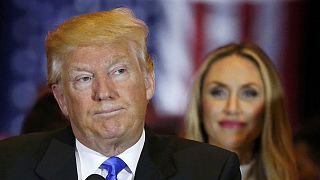 After scorning the Washington establishment including the Republican hierarchy, Donald Trump went on a charm offensive in the US capital to try to win their support for his insurgent presidential candidacy.
it's no secret that Donald Trump and I have had our differences... The question is, what is it that we need to do to unify the Republican Party
The New York billionaire needs the party behind him in his pursuit of America's top job in the November 8 election.
Trump was on his best behaviour as he met senior Republicans on Capitol Hill, listening carefully as they raised concerns about his policies and tone.
The party's top brass have stopped short of endorsing him – yet – but they put a positive gloss on the 45-minute meeting they held with the candidate.
Paul Ryan, who as speaker of the House of Representatives is the Republicans' top elected official, met Trump along with Republican National Committee Chairman Reince Priebus.
"I think we had a very encouraging meeting. Look it's no secret that Donald Trump and I have had our differences, we talked about those differences today, that's common knowledge. The question is, what is it that we need to do to unify the Republican Party," Paul Ryan told reporters.
Ryan and Trump issued a joint statement stressing their common ground. The candidate said the two men largely agreed on issues of border security, trade and beefing up the US military.
May 12, 2016
Later on Thursday, Trump met Senate Republican leaders and was warned about his campaign rhetoric.
"The issue of tone did come up," said Senator John Cornyn of Texas, who said he advised Trump on "the importance of the Hispanic vote and the whole idea of distinguishing between illegal immigration and legal immigration".
The candidate's language as he left Washington to fly home to New York was devoid of its usual sting.
Great day in D.C. with SpeakerRyan</a> and Republican leadership. Things working out really well! <a href="https://twitter.com/hashtag/Trump2016?src=hash">#Trump2016</a> <a href="https://t.co/hfHY9MdAc7">pic.twitter.com/hfHY9MdAc7</a></p>&mdash; Donald J. Trump (realDonaldTrump) May 12, 2016
Many establishment Republicans have been as horrified as the ever-present anti-Trump protesters at his extreme policy proposals and fiery tone, that for some commentators has bordered on incitement.
In Washington on Thursday, a small group of demonstrators paraded banners with slogans such as "Stop hatred against immigrants" and "Islamophobia is un-American".
Trump has vowed to build a wall along the US border with Mexico – and get Mexico to pay for it – deport 11 million illegal immigrants. He has proposed a temporary ban on Muslims from entering the country, although more recently he said it was 'just a suggestion'. He wants to impose trade protectionist policies, and has talked of reconfiguring the Western alliance and getting European nations to foot more of the bill.
The candidate also met former US Secretary of State James Baker in Washington, who had earlier told a Senate committee that the world "would be far less stable" without a strong NATO – comments that have been seen as a criticism of Trump's stance.
The emphasis this week has been on overcoming the discord within the Republican fold.
One senator – Lindsey Graham – had previously described the choice between Trump and rival Ted Cruz as being like trying to decide between being "shot or poisoned". His tone now is remarkably different.
I had a cordial, pleasant phone conversation with Mr. Trump yesterday. I congratulated him on winning the GOP nomination for President.

— Lindsey Graham (@LindseyGrahamSC) 12 May 2016
The presidential hopeful received a boost on Wednesday when a Reuters/Ipsos national poll showed him running even with likely Democrat nominee Hillary Clinton.
However, given Trump's stance and rhetoric on issues from immigrants and Muslims to trade and foreign policy, there's a lot of patching up still to do with mainstream Republicans.