Toxic tyre fire forces evacuation of 9,000 near Madrid
Comments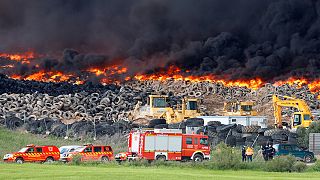 Toxic, black smoke has forced 9,000 people from their homes in a city just 35 kilometres south of the Spanish capital.
A huge fire is raging at a sprawling tyre dump in Seseña, prompting an emergency to be declared amid fears for the health of local residents and the environment. Three nearby schools have also been closed.
"We knew it was going to happen. It's happened now, but it could have happened ten years ago," said one local resident.
Local mayor Guillermo Gross del Rio said there were a number of open complaints concerning the dump.
"Our city was actually invaded by this dump. There were several complaints open concerning the impact on the environment and the company was even convicted for crimes against the environment."
The site's owner has not been located. He reportedly owes more than 600,000 euros in fines relating to the dump, which is said to contain up to five million tyres.
#POTD Flames rage through a pile of tires at the tire dump of Sesena in Toledo, Spain (EPA) https://t.co/iap4Iht4x7pic.twitter.com/76ATNfz8Yx

— Telegraph Pictures (@TelegraphPics) May 13, 2016
The mayor revealed the fire appeared to have been started deliberately. Emergency services have the blaze under control, but say they have yet to determine its cause.
El incendio de #Seseña visto desde el helicóptero de coordinación de #BomberosCMhttps://t.co/j4zZ2gK2Ty

— 112 Comunidad Madrid (@112cmadrid) May 13, 2016