Sprawling tyre dump ablaze in Spain
Comments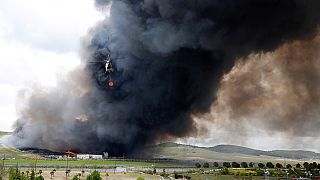 A spectacular fire broke out in the middle of the night in a sprawling tyre dump in Spain, about 35 kilometres south of Madrid.
An emergency has been declared in Castilla La Mancha region as firemen struggle to contain the blaze.
About five million tyres are piled on the site in Seseña, reportedly more than anywhere else in Europe.
The flames devouring them are coughing up black toxic smoke, and residents and drivers have been told to keep their windows closed.
The mayor of Seseña said the fire appeared to have been started intentionally.
The dump lies just 400 metres away from a vast residential development project that's now largely a ghost town and a symbol of Spain's collapsed real estate market.