Brazil's interim president wants to 'pacify' and 'unify' country
Comments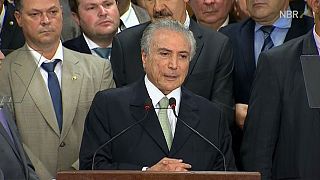 Fresh into the job, Brazil's interim president says his priority is to pacify and unify the country.
Speaking in Brasilia, Michel Temer said credibility had to be restored, describing the work ahead as "complicated" and "difficult."
The 75-year-old has taken up the top job after Dilma Rousseff was suspended.
He told his first news conference that the word that Brazilians should take note of was "trust".
"Trust in the recovery of the economy, in the potential of our country, in the social and political institutions, and in our capability – that united we can face the challenges of this difficult period," he said.
Temer's new cabinet was sworn in: 23 ministers, all men. His predecessor's larger team included six women.
Brazil's New Cabinet Has No Women, Drawing Social Media Backlash https://t.co/Je6UuWwXjm

— Parallels (@nprparallels) 12 May 2016
Brazil's first female president has described her ousting as a political coup.
Dilma Rousseff has again denied the allegations against her and says she will fight what she calls an "injustice".
The Senate voted to suspend for up to six months and put her on trial for breaking budget laws ahead of her 2014 re-election.
There is no evidence that Rousseff abused her position for personal gain. Meanwhile several of Temer's new team are said to be implicated in corruption, while the interim president himself has been disciplined for violating campaign finance rules.
NYT: "Rousseff is right to question the motives & moral authority of those who ousted her" – calls for new elections https://t.co/mqiIeVQpgW

— Glenn Greenwald (@ggreenwald) May 13, 2016
Temer's tough task is to to try and turn around a massive downturn in Brazil – the recession is the worst for decades – and cut bloated public spending.
The interim president also says employment is "fundamental" – 11 million are out of work – while reassuring apprehensive Brazilians that social programmes will stay in place.