Protesters march against Temer's new Brazil government in Sao Paulo
Comments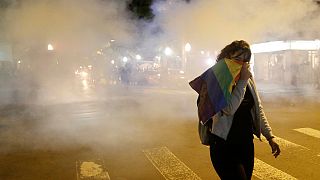 Thursday's events brought a protest – estimated to be at least several hundred strong – against the interim president and his new government in Sao Paolo, Michel Temer's back yard.
Paulista Avenue had been the focal point for opposition to Dilma Rousseff.
But the demonstrators marching down the same boulevard this time say they don't recognise the legitimacy of Temer's government.
They're protesting not so much in favour of Rousseff, as against what they see as her undemocratic removal.
"It's a civilian coup, capitalism today doesn't need guns, and soldiers, its enough to have an antidemocratic judicial system," said one man who turned out.
"Here it is the people who rule, and this shows that not everybody agrees with this new government. We can't respect a government that was not elected," a young woman added.
A smaller protest took place in the capital Brasilia, where police reportedly used pepper spray to stop a group of women from trying to gain access to the presidential palace during Temer's investiture ceremony. Clashes were also reported in Porto Alegre.
Many Brazilians feel the campaign to impeach Rousseff and oust her leftist ruling party is politically driven by the conservative opposition.
The protesters have vowed to take to the streets again in the coming days.