Zimbabwe puts its wild animals up for sale
Comments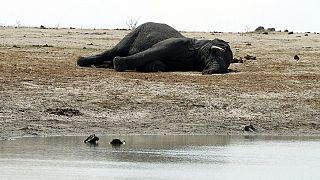 Zimbabwe's government has said it is ready to sell its wildlife.
People with money and space are being asked to buy animals in a bid to save them because of a devastating drought.
No details have been given about the animals on offer, their cost, and if foreign buyers will be welcomed, but those working in Zimbabwe's parks say the situation is dire.
Safari Operator Emmanuel Fundira said: "We don't have sufficient water in terms of looking after the wildlife, we also don't have sufficient grazing for the wildlife. So naturally we are overstocked in certain areas to a point where we know for a fact that we will end up losing those animals,"
Last year Zimbabwe drew criticism from conservationists when it started selling elephants to China, a country where elephant tusk is prized, in order to raise money.
Conservationist Johnny Rodriguez said: "If they are going to sell internally to our local people, I can't see many people in Zimbabwe who have got the money to actually pay for these animals. But if it is to be exported, if it is an excuse to export these animals to overseas, then I believe it's a big problem because these animals belong to Africa and it is a future generation's heritage."
In addition to the impact on wildlife, this year's El Nino-induced drought has decimated crops, leaving four million Zimbabweans needing food aid.
In February, Robert Mugabe's government declared a state of disaster in rural areas.