Venezuelan opposition leads marches against President Maduro
Comments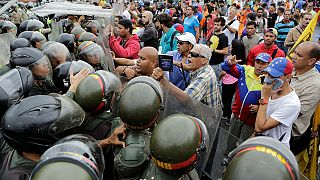 Soldiers and demonstrators have clashed following largely peaceful protests in Venezuela.
The opposition led the rallies, which aimed to put pressure on electoral authorities to allow a recall referendum against leftist President Nicolas Maduro.
Stone-throwing protesters were met with tear gas during one anti-government march in Caracas.
An opposition march in Caracas, Venezuela pressures electoral authorities to move forward with recall referendum pic.twitter.com/TtnRc0OtuZ

— Gerardo T teleSUR (@GerardoTteleSUR) May 11, 2016
Hundreds took to the streets of the capital and the provinces, but were blocked from reaching election board buildings.
Amid a worsening economic slump, the Democratic Unity coalition ramped up its efforts to topple the leader. It claims the pro-government electoral body is deliberately slowing down the verification of signatures in favour of the referendum.
Maduro's term in office is due to end in 2019. However, a new election would be held as soon as 2017, if the opposition succeeds in recalling the unpopular president.