Nigeria points finger at UK after Cameron's 'fantastically corrupt' remark
Comments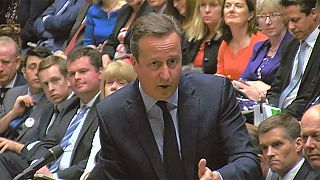 Nigeria is turning the tables on the UK, demanding that it returns assets held there by corrupt Nigerians.
I am not going to demand any apology from anybody. What I am demanding is return of assets
It comes after British Prime Minister David Cameron labelled the country and others as "fantastically corrupt." His comments to Queen Elizabeth were caught on camera during a reception.
The remarks came ahead of a global anti-corruption summit he's hosting – and that will be attended by Nigeria and Afghanistan.
"First of all, I had better check the microphone is on before speaking. It's probably a good idea," Cameron told the House of Commons in London.
"Countries like Nigeria and Afghanistan, their leaders are battling hard against very corrupt systems and countries and, in both their cases, they've made some remarkable steps forward and that's why I am so keen to welcome them to the anti-corruption conference here in London.
"But where I part company with my Honourable Friend is, I don't think it would be right to withdraw the aid that we give because, frankly, the problems in those countries – they come back and haunt us here, whether it is problems of migration or problems of terrorism and all the rest of it."
Nigeria's President Muhammadu Buhari says he is not looking for Cameron to say sorry.
"I am not going to demand any apology from anybody. What I am demanding is return of assets," he said.
Meanwhile, one Afghan MP is describing Cameron's comments as an "insult."
And there is a call for countries like the UK to shoulder some blame.
"Corruption exists in Afghanistan, there is no doubt about it. But the United Kingdom itself, America and the international community have had a hand in spreading corruption in Afghanistan," said Mohammad Farhad Sediqi.
"At this stage, when the anti-corruption conference is due to be held in London, we were not expecting the British government to raise the issue. This is a clear insult to the Afghan nation."
The presidents of both Afghanistan and Nigeria have pledged to clean up corruption. Cameron's summit aims to step up global action.