Japan welcomes Obama Hiroshima visit
Comments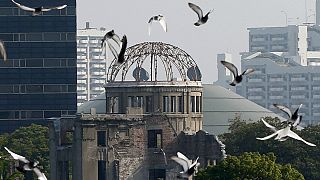 The Japanese government has welcomed Barack Obama's decision to visit Hiroshima later this month.
Obama will be the first serving US president to go to the city since it was hit by an atomic bomb in 1945.
140,000 people died in the attack often credited for helping to bring world war two to an end.
Following the announcement, Japan's Prime Minister Shinzo Abe said:"I believe that by visiting Hiroshima, understanding the reality of radiation exposure, and voicing his opinions there, President Obama is going to provide a strong push for achieving a world devoid of nuclear weapons."
In Hiroshima, the visit was also welcomed, despite the White House insisting Obama will not apologise for the bombing.
"I hope he looks at the reality, gaining an understanding of what nuclear weapons are capable of," one 88-year-old man said.
U.S. Secretary of State John Kerry went to Hiroshima last month during the G7 meeting of foreign ministers and it is thought that trip helped pave the path for Obama's forthcoming visit.