Bangladeshi Islamist leader Motiur Rahman Nizami executed for war crimes
Comments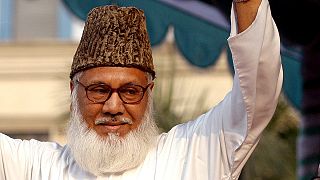 An Islamist leader has been hanged in Bangladesh for war crimes committed in 1971.
Seventy three-year-old Motiur Rahman Nizami was executed on Tuesday after being convicted of genocide, rape and torture.
He is the fifth opposition leader to be executed for war crimes in recent years.
Bangladesh says up to three million people died during the of war independence from Pakistan, in massacres by the Pakistan army and their local Islamist allies.
Families of the victims have been campaigning for more than 40 years for the perpetrators to face justice.
However human rights groups say the trials do not meet global standards.