Turkey: car bomb kills three in Diyarbakir
Comments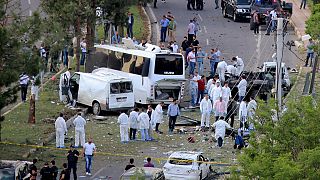 At least three people have been killed and 45 wounded when a car bomb struck a bus carrying Turkish police officers.
The state-run news agency reported that the attack in the mainly Kurdish city of Diyarbakir was carried out by the Kurdistan Worker's Party or PKK.
Five of the wounded were prisoners being moved under police custody, according to a security source. A senior official said some of them had been members of the outlawed PKK party and may have been targeted for being suspected informants.
Kurdish rebels have been targeting police and military targets since the collapse of a fragile truce in July 2015.
The PKK has been waging a 30-year-long insurgency against the Turkish state to push for autonomy in the southeast of the country.