Former Rwandan mayors go on trial in France for 1994 genocide
Comments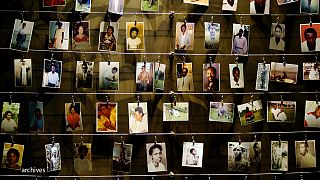 Two former Rwandan mayors have gone on trial in France charged with genocide and crimes against humanity for their role in the 1994 massacre.
More than 100 victims, relatives and witnesses are expected to testify in the trial being conducted under a special UN law created to pursue genocide suspects in France.
"It's only the second time in France that universal jurisdiction is used, that's the first thing," explained the lawyer of the plaintiff Richard Gisara. "The second thing is that this trial is about a part of history, it's about genocide and crimes against humanity, so for those two reasons this trial is very very important."
Octavien Ngenzi (58) and Tito Barahira (64), have already been sentenced to life imprisonment in absentia in Rwandan people's courts and face the same fate if convicted by the court in Paris.
The pair are accused of involvement in the massacre of some 2,000 Tutsis who had sought refuge in a church in the eastern town of Kabarondo during the 1994 genocide in which 800,000 people, mainly ethnic Tutsis, were killed.