Brexit opinion too close to call as Labour launches 'Remain' campaign
Comments
By
Euronews
with
Reuters, Financial Times, ICM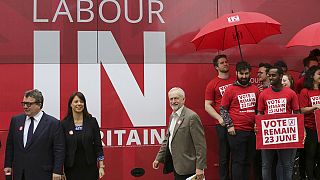 With just 43 days to go before the highly-anticipated Brexit vote, the British Labour Party has launched its campaign to remain in the European Union.
Its focus is on those whose livelihoods depend on trade and visa-free living in Europe.
"We need to have a strong message that we can actually stand up to defend workers' rights but also to deal with the huge challenges of global refugee movements and protect the freedom of people in Britain to live and work and retire abroad, so that we maintain that link with the rest of the continent," said leader, Jeremy Corbyn.
Brexit ahead?
An ICM poll published on Tuesday (May 10) gives the 'Leave' campaign an estimated two-point lead.
According to a Financial Times poll tracker updated on May 8, the 'stay' camp (Britain Stronger in Europe) is in the lead at 46 percent to 43 percent.
One of the more prominent pro-Brexit campaigners is former Conservative leader Iain Duncan Smith, who implied in an interview that Germany was Prime Minister David Cameron's puppet master during his EU renegotiations.
Iain Duncan Smith tells The Sun the vast majority of EU immigrants come to work rather than "scrounge benefits" https://t.co/gKKjKqG2Ju

— Dominic Kennedy (@TimesKennedy) May 10, 2016
"They had a de facto veto over everything," he told tabloid The Sun.
The move highlights the split in the ruling Tory Party. Approximately 40 percent are for exiting the bloc, according to information updated in April.
Former London Mayor Boris Johnson, who is tipped as a possible successor to Cameron, is also backing the 'Vote Leave' campaign. He even began singing in German…
"If we vote to leave the EU we will not be voting to leave Europe. Of all the arguments they make, this is the one that infuriates me the most… in a hotly-contested field," he told supporters.
"I am a child of Europe. I am as I say a liberal cosmopolitan. My family is the genetic equivalent of a UN peacekeeping force. I can read novels in French, I think I can even read novels in Spanish. I can sing the Ode to joy in German, and I will. If they keep accusing me of being a Little Englander, I will [begins singing]. You know it, you know it."