EU referendum: Boris Johnson criticises David Cameron's Brexit claims
Comments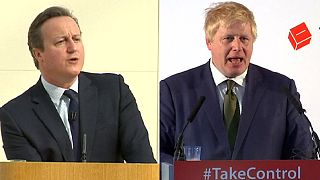 Peace in Europe could be put at risk if Britain votes to leave the EU, David Cameron has warned.
With only six weeks to go before a referendum on whether the UK stays or leaves the bloc, the prime minister claimed on Monday the UK had always regretted turning its back on Europe in the past.
"Isolationism has never served this country well. Whenever we turn our back on Europe, sooner or later we come to regret it. But we've always had to go back in and always at a much higher cost……''If we stay, we know what we get – continued full access to a growing single market, including in energy, services and digital, together with the benefit of the huge trade deals in prospect, between the EU and the United States and other large markets. If we leave, it is genuinely a leap in the dark,'' Cameron said.
But Cameron's conservative colleague and arguably his main rival in the Brexit debate, Boris Johnson, has dismissed such claims.
In a speech billed as his biggest on Europe yet, Johnson criticised the prime minister for failing to deliver proper EU reform.
"I don't think the prime minister can seriously believe that leaving the EU would trigger war on the European continent, given that he was prepared, only a few months ago to urge people to vote leave if they failed to get a substantially reformed European Union. We have not got a substantially reformed European Union,'' Johnson said.
Latest polls suggest the final decision over the UK's continued membership of the EU will be tight, with both the leave and remain campaigns neck and neck ahead of the June 23 vote.