Brazil: impeachment process against Rousseff back on track
Comments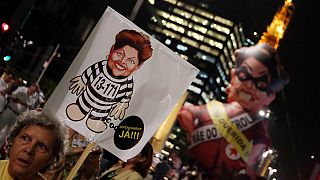 The ongoing political ping pong in Brazil has thrown the country into chaos.
For the moment, the process to impeach President Dilma Rousseff is back on track. Just one day after announcing he would suspend proceedings, the acting Speaker of the lower house of Congress repealed his decision.
A pre-scheduled Senate vote on whether or not to prosecute the leader on charges of breaking budget laws is, then, expected to go ahead on Wednesday (May 11).
Acting house Speaker Waldir Maranhão cited procedural flaws as the main reason for his initial decision. However, a number of senators, led by Senate President Renan Calheiros, had vowed to push ahead with the ballot regardless.
Maranhão did not give a reason for backtracking.
Reacting to Monday's news that she may not receive a reprieve, Rousseff said:
"I will fight with all the tools I have – both democratic and legal – to impede the illegal interruption of my mandate."
Brazilian markets were thrown into disarray following Maranhão's announcement on Monday (May 9), but the 'real' currency was up one percent upon Tuesday's revocation.