Outspoken mayor Duterte leads Philippines presidential vote in early count
Comments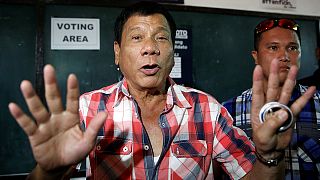 Rodrigo Duterte on track to win with 3/4 of vote counted
He would call for multilateral talks to resolve disputes over the South China Sea if elected
Nearest rival Grace Poe had 22.2 percent of the vote
Early counts are showing Rodrigo Duterte is heading for victory in the Philippines presidential election.
The outspoken mayor of Davao city was leading with more than 10 million votes, with three-quarters of the precincts counted.Though his campaign was characterised by shocking jokes and populist rhetoric he sought to play down his controversial image on polling day.
"The black propaganda and the false accusations between the two sides – I would say that these are really part of a day's work in an election, but I'd like to say that I'd like to reach my hand to my opponents. Let us begin the healing now."
Just weeks earlier reformist candidate Grace Poe had been leading polls, but was tarnished by questions over citizenship. The unofficial tally puts her in second place behind Duterte.
The election campaign has exposed growing disgust with the Southeast Asian country's governing elite, with analysts saying Duterte represents the 'protest vote'.
'Change is coming' has been the slogan of Duterte, though he has sparked outrage at home and overseas with the suggestion that he would overlook human rights should they stop him from implementing reforms.
In the vice-presidential race, Ferdinand Marcos Jr, son of the ousted dictator, was leading his closest rival.