Israeli soldier goes on trial for killing wounded Palestinian attacker
Comments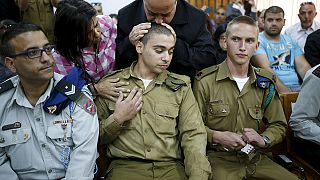 The trial of an Israeli soldier charged with manslaughter for killing a wounded Palestinian attacker has opened.
Sergeant Elor Azaria denies using excessive force and violating Israel military's rules of engagement.
The 19-year-old conscript medic shot Abdul Fatah al-Sharif in the head in Hebron in March while he lay incapacitated on the ground.
Outside court, Azaria's defence team said justice would be served.
"We are prepared and are continuing with the same line of defence. The truth will come out. The path will be long. We will endure," Defence lawyer Binyamin Malka said.
The killing, which was caught on camera, has divided opinion in Israel.
Last month thousands of people marched in support of Azaria, who says he believed the 21-year-old Palestinian, though subdued, may have had a suicide built and still posed a danger.
Palestinian leaders, however, have accused him of cold blooded murder.