Greek parliament votes through austerity tax and pension reforms
Comments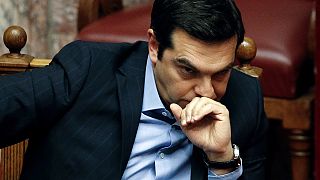 After two day's of debate in Greece's parliament, MPs voted on Sunday evening to pass a controversial austerity package.
The reforms, which will see pensions cut and taxes raised, are hugely unpopular. Thousands of people demonstrated outside parliament with a small number clashing with police and throwing petrol bombs.
Three days of a general strike have seen the country come to a near halt.
Trade unions say the country cannot take another round of austerity, and they will continue to challenge the government.
"We will not compromise. We will not consent. We will not back down. We will overturn their policies and we will overthrow those who implement them," said Grigoris Kalomiris from the Civil Servants' Confederation.
On Monday, Eurozone finance ministers will assess the package of reforms. The Greek government hopes it has done enough to unlock up to €5 billion in bailout funds.