North Korea talks of nuclear restraint and better relations with other countries
Comments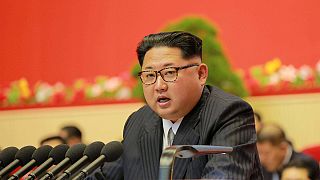 North Korea's leader has reportedly said the country will not use nuclear weapons unless its sovereignty is infringed by others.
According to state media, Kim Jong Un told the ruling party's first congress since 1980 that Pyongyang was willing to normalise ties with states that had been hostile to it.
The isolated communist country has made similar statements in the past, and the comments are being treated with scepticism by some analysts.
The reports quoted the leader as saying he would work towards nonproliferation and global stability.
But there are reports that North Korea may be preparing another nuclear test.
A previous test and satellite launch earlier this year earned it tougher UN sanctions, which in turn brought more belligerent threats from the North.
State media said Kim Jong Un also set out a five-year plan to boost economic growth, and especially improve the electricity supply.
But there has been little reform so far in the country since he came to power.
Foreign journalists were kept away from the congress despite having been invited to North Korea to cover it.
The Observer profile / Kim Jong-un: The tyrant's son who wants to be loved and feared https://t.co/qGCJdFOLXf

— The Guardian (@guardian) 7 May 2016