Scores killed as buses and fuel tanker collide in Afghanistan
Comments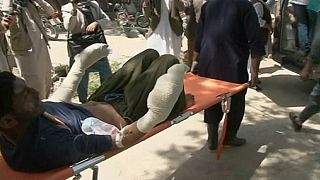 At least 73 people are known to have died in a road accident on a busy highway in Afghanistan, according to the country's health ministry.
Scores were injured in the huge explosion that followed a collision between two buses and a fuel tanker in the east of the country. Many were said to be in a critical condition.
The buses carrying 125 passengers from Kabul to Kandahar in the south crashed into the tanker which was going in the opposite direction in Ghazni province.
"We have admitted 24 wounded from the incident so far, four children and one woman among them. Most of them suffered burns injuries. We will transport them to hospitals in the capital so they can receive better treatment," said Baz Mohammad Hemat, the head of Ghazni Hospital.
Afghan army units sent to the scene managed to save some passengers.
The accident was serious even by the standards of Afghanistan's notoriously dangerous highways.
It happened in one of the regions most affected by the Taliban insurgency. Many bus drivers travel at speed and recklessly to avoid the rebels.
This is the buss after mishap with an Oil tanker on Kabul-Kandahar highway.#Afghanistanpic.twitter.com/G3COcCQEwz

— Pajhwok Afghan News (@pajhwok) 8 May 2016