Australia PM Malcolm Turnbull calls early election
Comments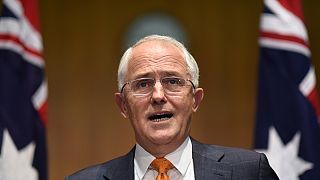 Australia's conservative Prime Minister Malcolm Turnbull has called a surprise early election on July 2.
He used a rare political tool to dissolve parliament after the upper house, the Senate, repeatedly blocked legislation.
Earlier today, I visited the Governor General and asked him to dissolve Parliament for an election #auspol#ausvotespic.twitter.com/OhP4EGj5iw

— Malcolm Turnbull (@TurnbullMalcolm) 8 May 2016
It kicks off a two-month campaign – one of the longest in the country's history – that is expected to focus on the flagging economy following the end of the mining boom.
Other issues likely to feature include health, education, and the heated debate over asylum seekers.
The election raises the prospect of more political instability where infighting among the leading parties has seen several politicians occupy the top job in recent years.
.annabelcrabb</a> discusses the potential hazards of a long election campaign <a href="https://twitter.com/hashtag/ausvotes?src=hash">#ausvotes</a> <a href="https://t.co/6kNgla6qkF">https://t.co/6kNgla6qkF</a></p>&mdash; ABC News 24 (ABCNews24) 8 May 2016
Turnbull, who ousted his predecessor Tony Abbott in a leadership challenge last September, is considered a moderate in the conservative Liberal Party-led coalition.
There has been some disappointment with Turnbull among people who expected him to distance himself from Abbott's right wing policies on issues such as immigration and climate change.
Opposition centre-left Labor leader Bill Shorten has painted Turnbull, a multi-millionaire lawyer and former tech entrepreneur, and the coalition as friends of big business.
Opinion polls suggest the government and Labor are running neck-and-neck.
At this election Australians have a clear choice to keep the course on our economic plan for growth & jobs #ausvoteshttps://t.co/oToVZeVV5M

— Malcolm Turnbull (@TurnbullMalcolm) 8 May 2016
We can win this, and your support will make all the difference. Can you chip in? #auspol#ausvoteshttps://t.co/lKKOJOtcj0

— Australian Labor (@AustralianLabor) 8 May 2016