'It's like something out of a movie', residents flee mammoth Canada wildfire
Comments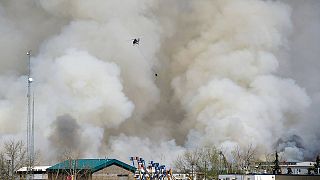 Firefighters have nicknamed it 'the beast'. An out-of-control wildfire in Canada which has been raging for almost a week, and could double in size by the end of Saturday to cover 2,000 square kilometres.
The mammoth blaze in Alberta has destroyed hundreds of homes and forced more than 80,0000 people to flee. Authorities are continuing to airlift people, who were stranded at oil sands work camps in the north, to safety. Others had to make the journey south by car. Evacuees ended up in hotels, campgrounds or reception centres.
State of emergency
"It's like something out of a movie, you've never seen before in your life," said one man at a temporary shelter.
Officials say winds are blowing from the southwest pushing the fire northeast away from Fort McMurray and into forested areas.
"We think our house is still standing. My sister-in-law lost her house yesterday to the fire. We are just really thankful to be together."
No deaths or injuries have been reported. But the exodus forced a quarter of Canada's oil output offline which is expected to impact the country already struggling with the slump in oil prices.
Experts are forecasting the increase and spread of CO produced by #FortMacFire with data from CDNMOPITT instrument. pic.twitter.com/CyNm0MSgBo

— CanadianSpaceAgency (@csa_asc) May 7, 2016