Historic mosque re-opens, 23 years after being destroyed in the Bosnian war
Comments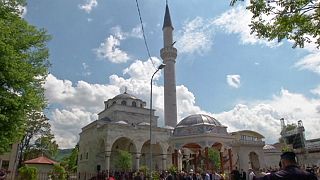 It was a masterpiece of 16th-century Ottoman architecture until it was blown-up by Serbs during the Bosnian war. The Ferhadija mosque has been revived to its previous glory and opened in an official ceremony in the capital of Bosnia's Serb region.
Turkey's outgoing Prime Minister Ahmet Davutoglu, whose country contributed to the rebuild, said the project was not just to build another mosque but send a message of peace.
"As a responsible people, we have to build our future based on mutual trust and respect. Let's do our best to understand ourselves better, not to endanger each other, but to learn from each other a lot of good will, respect and honesty," Bakir Izetbegovic, a member of Bosnian presidency said at the re-opening.
A ceremony to lay the foundation stone in 2001 was disrupted by Serb nationalists, killing one Muslim and injuring dozens of others.
The event on Saturday was an opportunity to project an image of tolerance in the multi-religious, multi-ethnic society.