US police officer in custody over multiple deadly shootings
Comments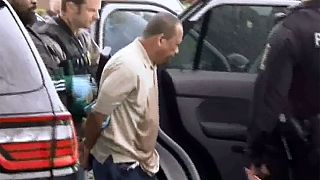 A US policeman was arrested on Friday on suspicion of killing his wife and then carrying out two deadly shootings at shopping centres in the suburbs of Washington D.C.
Eulalio Sevilla Tordil, 62, is in custody over two days of bloodshed.
He was detained near the mall where Friday's final killing took place – that of a woman outside a grocery store. Earlier on Friday, a man was shot dead at another mall.
Shootings UPDATE: Suspect IN CUSTODY in Aspen Hill area: Eulalio Tordil, 62. Press Conference to be held. Time: TBD pic.twitter.com/cHQJRPa9uP

— Montgomery Co Police (@mcpnews) May 6, 2016
Speaking after Tordil's arrest, Darryl McSwain, Assistant Chief with Montgomery County Police, said: "He has since been taken to our headquarters for further questioning."
"We do have reason to believe that this incident and the one in Aspen Hill, potentially the one also in Prince George's County at High Point, was in fact related. That will obviously be further vetted through the investigative process."
Tordil, who worked for the US Department of Homeland Security, was said to be on administrative leave after his estranged wife obtained a protective order against him.
Teacher Gladys Tordil was shot dead while picking up her daughters from High Point High School on Thursday.
The first of Friday's incidents began with a confrontation in a car park at Westfield Montgomery Mall in affluent Bethesda, Maryland, where two men and a woman were shot, police said.
One of the men died, the other was in critical condition, and the woman's life was not considered in danger, said Assistant Chief McSwain.
The second shooting took place about half an hour later, killing a woman at the Aspen Hill Shopping Center in Silver Spring, some 13 km away.
Bethesda and Silver Spring are suburbs of Washington in Montgomery County, which neighbours Prince George's County.
Authorities had temporarily locked down 14 schools near Friday's shooting sites and all of the county's recreational facilities as a precaution.