Turkey: journalist heading to state secrets trial shot at moments before verdict
Comments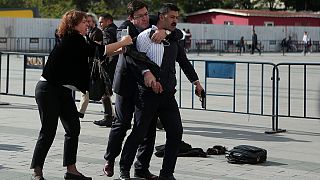 Eyewitnesses say a prominent Turkish journalist was shot at moments before a verdict was to be given in his trial for allegedly revealing state secrets.
The assailant is said to have shouted "traitor" before firing three shots at Can Dundar outside the court in Istanbul.
Dundar, the editor-in-chief of the opposition Cumhuriyet newspaper, was unharmed, however a bullet reportedly grazed the leg of a reporter covering the trial.
The case has drawn international criticism of press freedom in Turkey. Dundar faces a life sentence if found guilty on charges of espionage and attempting to bring down the government. He is accused of publishing footage purporting to show Turkish state intelligence transporting weapons into Syria in 2014.