Turkey: Davutoglu departure raises concerns over authoritarianism
Comments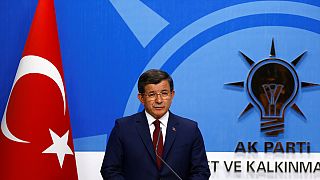 Turkish Prime Minister Ahmet Davutoglu's parting of company with President Recep Tayyip Erdogan has raised concerns from critics about increasing authoritarianism in the country.
Davutoglu is seen in Europe as the more liberal face of the Turkish government.
His announcement on Thursday that he is stepping down as leader of the ruling AK Party and therefore as prime minister is thought to be linked to disagreements over President Erdogan's drive to create a more powerful executive role for himself.
In a speech defending his record but also vowing loyalty to Erdogan, Davutoglu said he had kept his party and the government intact during a tumultuous period and pledged that "strong" AKP government would continue.
An extraordinary party congress to choose a replacement for Davutoglu will be held on May 22.
"I am telling our members, up until today I was leading you. From now on, I am among you," he said.
Davutoğlu stepping down as Turkish PM, AKP to hold snap congress https://t.co/7aKmqfKStdpic.twitter.com/isij9yDTIg

— Hürriyet Daily News (@HDNER) 6 mai 2016
Davutoglu's departure follows weeks of tensions with Erdogan. His successor is likely to be significantly more willing to back Erdogan's aim of changing the constitution to create a presidential system.
Main opposition leader Kemal Kilicdaroglu condemned what he called a "palace coup" and rejected attempts by AKP officials to dismiss it as an internal affair.
President Erdogan tightens grip on power by forcing resignation of Turkish PM https://t.co/AF0MOyGo1A

— The Independent (@Independent) 5 mai 2016
Davutoglu's absence is likely to test relations with Europe just as Ankara implements a deal on stemming the flow of illegal migrants in return for accelerated EU accession talks, visa liberalisation, and financial aid.
Davutoglu negotiated the accord and has largely delivered Turkey's side of the bargain.
EU officials involved in the deal were reluctant to be drawn on the implications of Davutoglu leaving, insisting that Ankara's existing commitments should not be affected.
"We will obviously discuss this first of all with the Turkish authorities and define together how to move forward," EU foreign policy chief Federica Mogherini said in Pristina, Kosovo, saying it was too early to assess the impact.