North Korea kicks off congress, but foreign invitees refused entry
Comments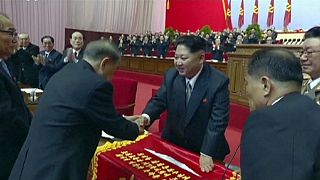 North Korea's Kim Jong-un praised the country's nuclear success as he opened a rare party congress.
Thousands of delegates applauded the leader as he announced the accomplishment of "unprecedented results."
The first congress of the ruling Workers Party in 36 years is widely considered an opportunity for Kim to consolidate his control over the country.
The leader's comments were reported on state television. More than 100 foreign journalists were invited to the secretive nation, but refused entry to the April 25 House of Culture, where the party conference is taking place.
Media reports suggest the invitees were instead given a tour of a wire-making factory.