China's Didi Kuaidi beefs up war chest to fend off Uber
Comments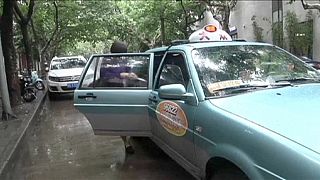 The Chinese ride-hailing service Didi Kuaidi is reportedly close to raising $2 billion (1.75 billion euros) as it bulks up its war chest to fend off competition from Uber.
Didi Kuaidi's fundraising plans would value it at around $25 billion (21.8 billion euros), making it the fourth most valuable start-up company in the world after Uber, Xiaomi and Airbnb.
Taxi app Didi Kuaidi's $2B fundraising is largest-ever for China tech startup http://t.co/OY9TLMaYfNrickcarew</a> <a href="http://t.co/GoNvFjVFoj">pic.twitter.com/GoNvFjVFoj</a></p>&mdash; Juro Osawa (JuroOsawa) July 8, 2015
Didi and Uber are spending heavily in China to subsidise fares and recruit drivers as they battle for a greater share of the fast growing market.
The Chinese company is also reportedly looking to invest in new areas such as driverless technologies and 'Big Data', which refers to the analysis of growing amounts of stored data.
This new fundraising round comes just months after Didi Kuaidi, which is backed by Alibaba Group and Tencent, said it had completed another $3 billion (2.62 billion euros) round in September.