Madrid celebrates football supremacy but wonders who are Real champions
Comments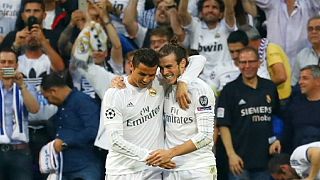 Let us hope the team that turns up for the final of the 2016 Champions League is better than the Real Madrid we saw against Manchester City over both semi-final legs.
Only able to overcome Manuel Pellegrini's underperforming side by a single, deflected goal on Wednesday night, they will have to play a lot better to beat their city rivals Atletico Madrid on May 28 and lift the European Cup.
But that is not the way Real manager Zinedine Zidane saw it;
"I haven't seen a weak Manchester City. In my opinion they were focused, they put us in trouble. We didn't create many chances but they have played and defended well. The result shows how difficult it was to beat them."
Losing Vincent Kompany, their beating defensive heart early did not help City, but Aguero went awol at a big match again, and City only had two shots on goal all night. A first final will have to wait.
"They didn't have the control of the match in any moment and they couldn't score another goal, but neither could we. It would have been fair for either of the teams to reach the final. Both teams showed a poor creative level in both games," thought Pellegrini.
Few would disagree. It sets up a revenge match of the 2014 final, the only match between the two sides Real has won since 2013, apart from a double in the 2014 Copa del Rey. Some at Atletico might trade that winning streak for a win in three week's time.