Video: Transgender woman 'assaulted on New York subway'
Comments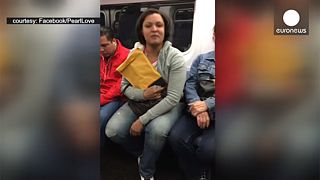 After recently meeting Hillary Clinton, Pearl Love, a transgender woman, says she had an altogether less positive encounter while riding the New York subway.
A woman apparently sitting opposite her in the carriage started yelling profanities including racial and transphobic slurs, according to footage posted online.
The situation escalated and the woman appeared to attack Pearl.
Pearl, a social worker for the Trans Latina network, posted footage to her Facebook page commenting: "So now you can understand what's happening in my everyday life. That happens all the time. But it's my first time recording it."