Russia boosts western border defence with new divisions
Comments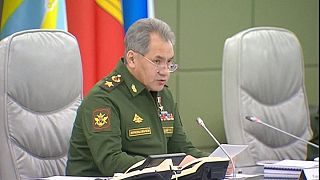 There is no let up in the military game of chicken going on between Moscow and NATO, with the Russians announcing on Wednesday the formation of three new divisions, two for the western frontier and one in the south.
Unspecified retaliatory measures will be taken if NATO goes ahead with its planned stiffening of eastern allies with 4 marine battalions, a deployment Moscow insists has provoked this buildup.
"The Ministry of Defense is taking a number of measures aimed at preventing NATO from building-up on Russia's borders. Two new military divisions will be formed in the Western Military District by the end of the year, and one in the Southern Military District. At the moment we are building bases for these forces," said Russia's Minister of Defence Sergei Shoigu.
NATO members Poland and the Baltic states, where the marines are going, called for extra forces after Russia's destabilisation of Ukraine.
The latest show of Russian military power has been an exercise with Chechen special forces in the Arctic as the continental giant seeks to clearly demarcate where its word is law.