Israeli troops shoot dead driver who rammed car into soldiers
Comments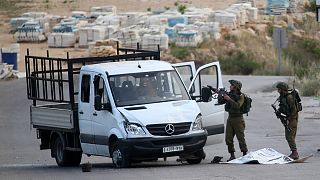 Israeli soldiers shot dead a Palestinian driver in the West bank on Tuesday after he'd rammed his vehicle into three of their colleagues.
In the last year Palestinian attacks have killed 28 Israelis and two visiting US citizens. Israeli forces have killed at least 194 Palestinians.
Tuesday's incident left one of the three injured soldiers in a life threatening condition.
Background to violence
Factors driving the current violence include Palestinian bitterness over stalled statehood negotiations, the growth of Israeli settlements in the West Bank,increased Jewish access to a disputed Jerusalem shrine and Islamist-led calls for Israel's destruction.
The pace of what had been almost daily Palestinian attacks since October has infact slowed. Israel puts this down to closer cooperation with Palestinian security forces in the West Bank and more stringent monitoring of social media to identify potential assailants.
Sentenced to life
Elsewhere in Jerusalem an Israeli man (Ben David)whose killing of a Palestinian teenager helped trigger the 2014 Gaza war, was sentenced to life in prison.
Ben David gets life but Israel has a reliable history of releasing killers of Palestinians #MuhammadAbuKhudairhttps://t.co/XvnfiLtPAB

— Sarah Wilkinson (@swilkinsonbc) May 4, 2016
Sixteen-year-old Mohammed Abu Khudair was bludgeoned, strangled and burned alive by three Israelis who have now all been sent to jail .
The defendants said Abu Khudair's murder was a revenge killing for the deaths of three Israeli youths by Hamas militants.