Israeli authorities discuss a halt on returning attackers' bodies
Comments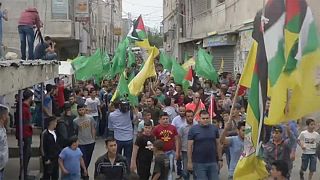 Israeli authorities are discussing whether or not to continue handing back the bodies of people killed while carrying out attacks on soldiers.
Although the topic has been under consideration for some time, the latest talks follow an assault in which three Israeli soldiers were injured – one seriously – when a Palestinian man rammed his vehicle into them.
Attack Update-Assailant rammed car into 3 Israelis at junction NW of Ramallah. Victims taken to hospital for emergency care. Attacker shot

— IDF (@IDFSpokesperson) May 3, 2016
Education and Diaspora Affairs Minister Naftali Bennett said:
"Releasing the bodies of the attackers to the families of the murderers is a grave mistake that encourages the next attack. Just like we exert effort to demolish attackers' houses, we need to prevent the ritual of burying attackers and there is no reason to give a present to their families."
Israeli officials claim returning the bodies provokes further violence. Assailants' funerals often attract hundreds of highly-agitated people.
In the past year, Israeli forces have killed at least 194 Palestinians, almost 70 percent of whom were said to have been attackers.