Trump and Clinton edge closer to presidential face-off as Indiana looms
Comments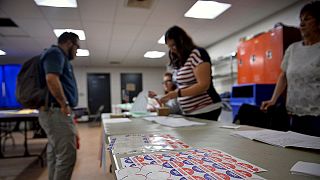 Republican presidential nominee in waiting Donald Trump takes a 15 point lead into Tuesday's Indiana primary, according to opinion polls.
Donald Trump up big in Indiana in latest polls. Tuesday is going to be a big day. #Trump2016pic.twitter.com/FD7PzPqxHF

— We Need Trump (@WeNeedTrump) May 1, 2016
Billionaire Trump believes its the end of the road for his Republican rivals:
"If we win Indiana, it's over ok. If we win Indiana it's over. It's over. And we are going to get there, and I shouldn't say this because it takes away your incentive, we're going to get there anyway. But if we win Indiana most people think the others will quit the race and then we can focus on crooked Hillary. Please let's focus on Hillary,"
he told supporters.
Speaking in Detroit to a largely African-American crowd Democratic frontrunner Hillary Clinton praised the work of outgoing president Barack Obama:
"It was a tremendous honour to serve in President Obama's administration. Now America is deciding who will succeed him. The leading Republican contender is the man who led the insidious birther movement to discredit the president's citizenship."
Presidential candidate Hillary Clinton addresses Detroit NAACP Dinner. #detnaacppic.twitter.com/v14s2dULn1

— Chuck Stokes (CStokesWXYZ) <a href="https://twitter.com/CStokesWXYZ/status/726936349392166912">May 2, 2016</a></blockquote> <script async src="//platform.twitter.com/widgets.js" charset="utf-8"></script> <b></b> In Los Angeles a traditional May Day march turned into an anti-Trump demonstration as the country gears up for potentially for the most devisive US presidential election in decades. <b></b> <blockquote class="twitter-tweet" data-lang="en"><p lang="en" dir="ltr">May Day rally in LA hoists effigy of Trump with KKK hood as crowd trashes him <a href="https://t.co/p0ymHNSKhM">https://t.co/p0ymHNSKhM</a> <a href="https://t.co/SiLbYvqTq0">pic.twitter.com/SiLbYvqTq0</a></p>&mdash; R Joseph (rjoseph7777) May 2, 2016