Easter rocket ban on Greek island leads to protest
Comments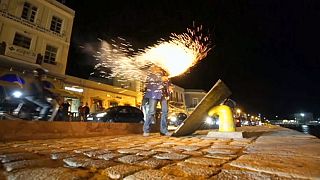 Some residents on the Greek island of Chios are up in arms over the banning of rocket firing on the eve of Orthodox Easter.
Villagers from two rival parishes compete to see who can hit the other's church the most times.
But this year the centuries-old 'rouketopolemos', as it's known,
has been forbidden by the authorities after complaints by some people living near the churches, whose homes are often damaged by the rockets.
"Unfortunately, this year the rocket war cannot be conducted due to the fact that many people have complaints about the damages that rocket war causes every year", said local man John Tatsis. "But those people are not a lot, only 20, I think. I'm very disappointed about the decision that the authorities took, and I hope that next year this tradition will be continued."
The ban led to flag-carrying protests from those who want to see the tradition maintained, and some have even gone as far as to defy the ban.
Rockets could be seen being fired on Saturday evening. According to villagers more than 20,000 hand-made rockets had been prepared for the festival and some people just couldn't resist launching them.