Rescue teams keep searching after deadly Kenya collapse
Comments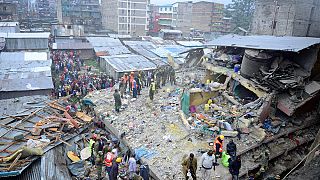 At least ten bodies have now been recovered from the rubble of a collapsed building in Kenya's capital, Nairobi.
Visiting the site of the disaster, President Uhuru Kenyatta ordered the arrest of the owners of the six-storey residential block.
Rescuers have pulled more than 130 survivors from the building that collapsed late on Friday. But the search is becoming increasingly desperate as the hours go by.
One man with no news of his sister and her family says he was called by them just before the tragedy.
"They told me that the house was shaking and on arriving here, I found that the house had already collapsed down," said Willingtone Ochande.
We managed to pull another person out. Our @EMS_Kenya ambulance is rushing the survivor to hospital. #HurumaCollapsepic.twitter.com/2f23tuoiO8

— Kenya Red Cross (@KenyaRedCross) 30 avril 2016
Using their bare hands, rescue teams continue to search for signs of life.
Days of heavy rain are thought to be behind the disaster. Heavy rain has led to building collapses in the past in poor neighbourhoods of the Kenyan capital, which residents have blamed on shoddy or illegal construction.
With families distraught and many now homeless, emergency workers are dong what they can.
Kenya's Red Cross has issued a telephone hotline to report any missing people.
Back side of the collapsed building. #HurumaCollapsepic.twitter.com/CCldqrWEB4

— Kenya Red Cross (@KenyaRedCross) 30 avril 2016